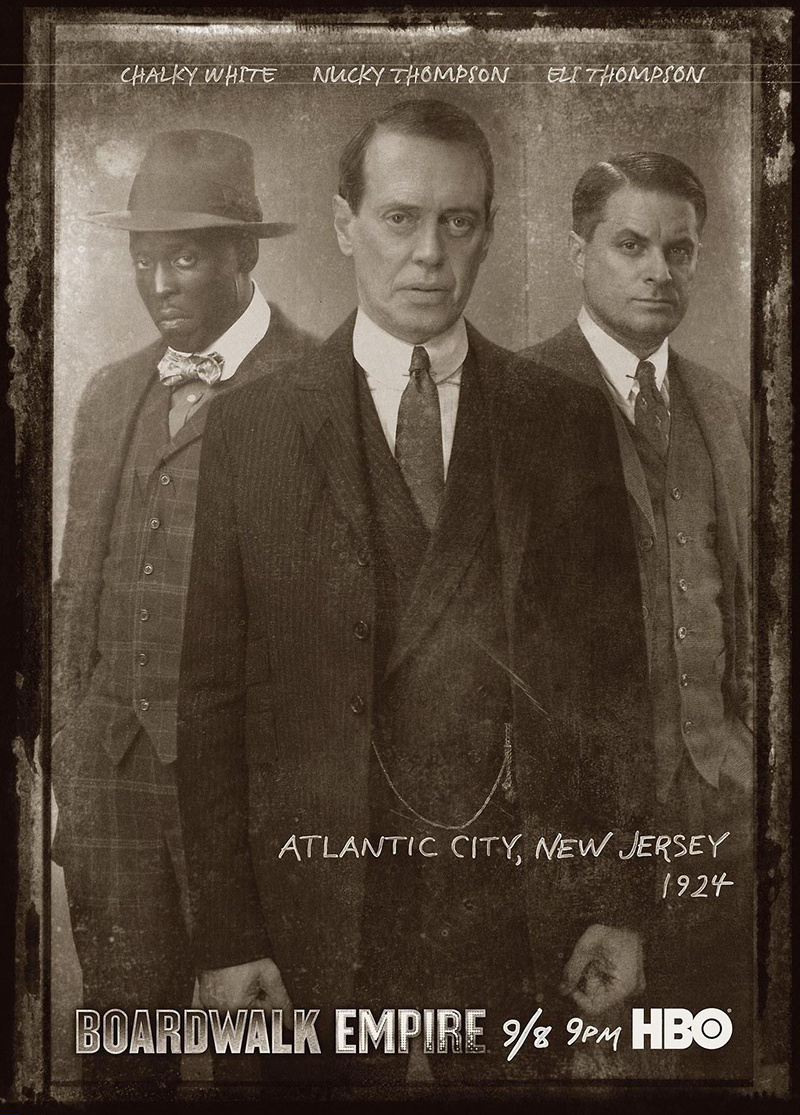 10) Boardwalk Empire
(HBO)-
Season 4
Created by:
Terrence Winter
I'm a huge supporter of Boardwalk Empire, and was screaming until I was blue in the face about how excellent Season 3 of the show was. Since its inception, Boardwalk Empire has just gotten better and better. At least for the first 3 seasons. I thought Season 4 was a huge step back for the show. For starters, there was no big bad for the show's "lead" Nucky Thompson (Steve Buscemi). Sure, Dr. Valentin Narcisse (Jeffrey Wright) was a great big bad for the show in general, however he mainly was the villain for Chalky White (Michael Kenneth Williams). And as much as I love Chalky (aka Omar from The Wire), I realized this season that I really enjoy him as a supporting player to Nucky, and I'm not a huge fan of him as a co-lead.
Boardwalk Empire has always been a show that was carried not by its lead, but by its more entertaining co-stars. And there's nothing wrong with that. Scrubs and How I Met Your Mother made excellent careers out of that dynamic. But now that many of the sub-players are in different states with little to no connection to Nucky Thompson, this show felt like more of a jumbled mess than Game of Thrones. Nucky Thompson is a pretty boring character by himself (as Season 4 has really brought to our attention), but the plot still needs to run through him for the show to work. It's still really good, but it didn't live up to its full potential in 2013.
9) New Girl
(FOX)-
Seasons 2/3
Created By:
Elizabeth Meriweather
Network comedies don't air one full season of a show like network dramas do. Comedies, especially ones that last, will air the first part of one season during the fall/winter, and the second half of that same season in the spring the year after. Therefore, we were treated to amazing set of New Girl episodes early in 2013 from season 2, and an atrocious set of episodes late in the year from season 3. Season 2 of New Girl was amazing, and if only Season 2 aired in 2013, then New Girl would easily be ranked #3 on this list. So the fact that it has dropped to #9 should give you some idea of how truly horrific the start of Season 3 has been. Maybe comedy viewers really love the build up to a relationship instead of the actual relationship, which would make sense of why there has been this drastic decline from season 2 to 3, but really, I blame how the writers have used Schmidt (Max Greenfield) and Winston (Lamorne Morris). Winston is now just a legit crazy person, like padded cell crazy person, who craziness is accentuated even more by the reemergence of Coach (Damon Wayans Jr.). But even worse is what the writer's did to Schmidt. I guess I get it that both Nick (Jake Johnson) and Jess (Zooey Deschanel) AND Schmidt and CeCe can't be a couple at the same time, but the writers turned Schmidt from a love-able douche so a straight up asshole. I hope Meriweather and team fix this for 2014. I want to genuinely watch New Girl as opposed to just keeping the TV on after finishing up Brooklyn 99.
8) Key and Peele
(Comedy Central)-
Season 2
Created By:
Keegan Michael Key & Jordan Peele
Dear Saturday Night Live, if you are ever curious to see what a good sketch comedy show looks like, then you need to start watching Key and Peele. These MadTV alums have years of experience and have finally perfected sketch comedy. They of course parody Black culture, but most of their sketches dig deeper than race. They're funny on a human level. Dave Cheppelle's show was all about race, and the vast majority of his sketches were race based. I feel that Key & Peele start off parodying pop culture and human experiences first, and then attack Black culture second. And its because of that that I think Key & Peele is more consistently good and funny than Chapelle's Show ever was.
7) Game of Thrones
(HBO)-
Season 3
Created By:
David Benioff and D.B. Weiss
With Breaking Bad now officially no mas and Mad Men on its last leg, Game of Thrones is probably THE show America has chosen to lead the "Best Drama on Television" award. The problem is that GoT shouldn't be compared to the greats like Breaking Bad and Mad Men. Game of Thrones is great for the era in which it airs in. The AMC dramas are the greatest television programs of all time. The biggest problem with Game of Thrones, is that it's unfair to judge individual seasons, because everything is playing for the long game at the very, very end. Shows like Boardwalk Empire will have "boring" or "bad" episodes throughout the season if you're viewing it on a week by week basis, but when you view at as 1/12 of the season at large, it's really good. GoT takes that concept and applies it to SEASONS. However, television is not meant to be viewed that way, despite what Benioff and Weiss might want us to believe / have happen. This concept of storytelling might be extremely groundbreaking, but it also leads to individual seasons, like Game of Thrones' third season, to be really good, but just not great.
6) Parks and Recreation
(NBC)-
Seasons 5/6
Created By:
Greg Daniels and Michael Schur
I think I can now safely say that Parks and Rec is an all time better comedy than The Office. I can pin point the exact episode The Office became terrible. It was an episode entitled "Mafia", and it was the first episode to air after Jim and Pam got married. "Mafia" was episode 6 of Season 6 of the show. Parks and Rec has aired 9 episodes of its Season 6 in 2013, and its still really funny. Now granted, the show has lost a step or two since its early days (I think the downfall started once Leslie Knope became a full fledged Councilwoman), but it's still far and away the best comedy on TV right now.
5) Orange Is The New Black
(Netflix)-
Season 1
Created By:
Jenji Kohan
Easily the least hyped Netflix original series of 2013 is one of the best television series of the year. The show follows Piper Chapman (Taylor Schilling) as she begins to serve a 15 month prison sentence in a minimal security prison. While many people point to the fact that Jenji Kohan created a rich world in this prison system where the viewer not only feels that they know every inmate serving with Chapman, and each character is three dimensional, I personally believe its because of Pablo Schreiber. Schreiber plays Pornstache and the most stereotypical character on the show- a corrupt security guard. But listen to the list of shows he was in before OITNB: The Wire (Nick Sobotka during Season 2), a kidnapper of Oilivia Benson in Law and Order: SVU, and Lights Out. There was no way OITNB could have been terrible with Schreiber in it! The bigger question is how was Ironside such a failure?
4) House of Cards
(Netflix)-
Season 1
Created By:
Beau Willimon
Most television critics believe that Orange Is The New Black is the best show that Netflix produced this year, and there's a darn good argument for that. However, I am not one of those people. I never lost sleep watching OITNB. I never stayed up until three in the morning waiting to see what was going to happen next on OITNB. I never laid awake thinking about what I just watched on OITNB. I did all those things for House of Cards. I think about certain events that transpired on the show, even about a year later, and the more I think about it, the more I realize that it didn't quite make much sense. But I don't care. The show was so gripping and so compelling, that it made me care. After the show aired,
I wrote a full review about the show and what this Netflix model means for television in general
. That review did more justice for the show than any blurb I write here could.
3) Mad Men
(AMC)-
Season 6
Created By:
Matt Wiener
Critics GUSHED over the atrocious Season 5 of Mad Men yet complained over and over again about how terrible this great season of Season 6 was. I loved Season 6. I loved the idea of coupling / dopplegangers. It's such a cynical view of the world that shit just keeps happening over and over and over again. Don Draper is a miserable sonuvabitch and he brings this crap onto himself. I love it. It very well could be Season 6 was just an outlet for Matt Weiner's writer's block because he's run out of story, but it sure worked well.
Even when an episode of Mad Men was terrible, it was genius
.
2) Breaking Bad
(AMC)-
Season 5.2
Created By:
Vince Gilligan
When I was thinking about this list, I thought for sure I had to have Breaking Bad #1. But that just didn't sit right with me. I mean, it was great, but #1 of the year great? Nope. #2 of the year though? Abso-fucking-lutely. There's been so much written on the Internet about how awesome Breaking Bad is, that you don't need to hear it from me. So I'm going to spend this brief blurb discussing Rian Johnson. He's the director of the
best movie of 2012- Looper
. He's also the director of many BB episodes. While not a producer on the show or a series regular, he does direct a handful of episodes. He's the director of "Fifty-One", "Fly", and "Ozymandias"- literally the three single best episodes the show has ever done. All hail Rian Johnson.
1) Justified
(FX)-
Season 4
Created By:
Graham Yost
The more I thought about this list, the more I realize Justified is the best show on television right now. There are some great Seasons 4 in the history of television- The Wire (the seasons with the kids), Dexter (the season with John Lithgow), and Breaking Bad (the season of Gus vs. Walter). Season 2 of Justified probably best fits with those other seasons, but Season 4 of the show is almost as good. Season 4 follows around the mystery of Drew Thompson. Everybody is out looking for Thompson, and truthfully, throughout most of the season, I completely forgot why. It didn't take away from my enjoyment of the show (and it made sense once Hitfix's Alan Sepinwall emailed me why everyone was looking for him) and frankly it just didn't matter. In my mind, it's just a McGuffin to get these great characters to interact with each other.
Part of the reason Season 4 was so great was that it went back to basics. The show is great when the core group of characters are interacting with each other. The main reason Season 3 of the show didn't work so well, was that it had too many cooks in the kitchen. After the great Mags Bennett left, the show added The Carpetbagger (Neal McDonough) AND Limehouse (Mykelti Williamson). There was too many things going on at once. Season 4 took away both big bad's without adding a new one. The recipe for success. By having Boyd Crowder (Walton Goggins) act as the defacto bad guy, the show was able to shine again.
Lastly, it wouldn't be appropriate to address Justified in 2013 without mentioning Elmore Leonard. He was the author of the short story that Justified was based off of and he passed away this year. Rest In Peace Elmore Leonard.
What was your favorite show in 2013? Let us know on our Facebook page!